The HMS-3000 Hall Measurement System is a complete system for measuring the resistivity, carrier concentration, and mobility of semiconductors.


Very Competitive Price        Compact Desktop Design        Easy-To-Use
Click this link to watch a video showing the operation of the HMS-3000 Hall Measurement System
| | |
| --- | --- |
| The HMS-3000 includes software with I-V curve capability for checking the ohmic integrity of the user made sample contacts. The systems can be used to characterize various materials including semiconductors and compound semiconductors (N Type & P Type) such as Si, Ge, SiGe, SiC, GaAs, InGaAs, InP, GaN, ZnO, TCOs, metals, etc., at both 300K and 77K (room temperature and liquid nitrogen temperature). | Main Body (HMS-3000) |
Characteristics
Compact Desktop Model – Permanent magnets and a small circuit system are used instead of an electric magnet system and a bulky constant current source, producing a compact, desktop design.
Simplicity and Accuracy
5 Stage current ranges reduce the allowance error to a minimum.Simple Operation – Speedy Data Results
Data is input by a simple operation providing bulk/sheet carrier concentration, mobility, Hall coefficient, bulk resistivity, conductivity, magnetoresistrance, and alpha (Vertical/Horizontal ratio of resistance).
PCB Sample Holder
(6mmx6mm, 20mmx20mm)

Magnetic flux density input system 0.51T, 1.0T
| | |
| --- | --- |
| The SPCB-1 Spring Clip Board does not require the usual sample bonding process invoving the use of small wires.The Spring Clip Board is for use with the 0.51 Tesla magnet kit (not the 1.0T) and it has spring loaded clips and spring loaded tips to make contact without using bonding wires. (When using the Spring Clip Board, usually the contacts must still be annealed with a conductive material such as indium to insure good probe contact) | (click the Spring Clip Board photo to see a larger image) |
| | |
| --- | --- |
| (click the SPCB-2 Spring Clip Board photo to see a larger image) | The SPCB-2 Spring Clip Board is for mounting thicker samples that are from 2mm up to 4.5mm in thickness. |
Product Composition
Constant current source supply system
Sample measurement case
Permanent magnet set
Hall Effect Measurement Program (Windows)
Funnel for liquid nitrogen
Features
Low and high resistivity measurement capability, bulk and sheet carrier concentration and mobility, Hall coefficient in semiconductors
DC measurement modes
van der Pauw and Hall Bar measurements
Board system (room temperature or 77K)
Specifications:
General
Maximum sample size (Small board) – 6mm x 6mm, (Large Board/Spring Clip Board) – 20mm x 20mm.
Measurement Temperature: 300K (room temperature), 77K (Liquid Nitrogen)
Cool-down time: 10sec.
Measurement Material: All semiconductors including Si, SiGe, SiC, GaAs, InGaAs, InP, GaN (N Type & P Type can be measured).
Data input of depth enables comprehensive measurement of the whole material.
Resistivity Range of HMS-3000: 10-4 to 107 (Ohms-cm)
Magnet: Permanent magnet (diameter: 50mm)
Magnet Flux Density: 0.51 Tesla nominal +/-1% of marked value (Optional 1 Tesla sample kit for 300K testing only)
Stability: 2% over 1 years
Uniformity: +/- 1% over 20mm diameter from center
Pole Gap: 26 mm
Hall voltage range: 1uV to 2000mV
Mobility: (cm2/Volt-sec) 1 ~ 107 (including low temperature)
Density (cm-3): 107 ~ 1021
Standard field strength 0.51 Tesla, Optional field strengths 0.27T, 0.31T, 0.37T, 1.0 Tesla (300K testing only).
Size (W × D × H): 320 x 300 x 105 mm (Constant Current Supply System)
Weight: 7.7kg (without shipping packaging)
Packed in overseas wooden crate, Weight: 18.5 Kg, Dimensions: 23″ x 18″ x 19″
Current source:
Range: (HMS-3000) 1nA-20mA
Compliance: 12V
Voltage measurements:
Input impedance: 2×107
Input voltage range: +/-12V
Sample input: Sample board
Contact switching: Mechanical Relay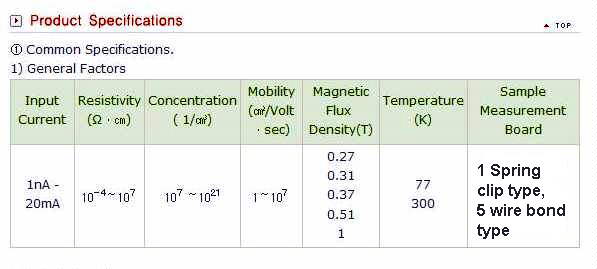 0.51 Tesla (Standard)


0.51T Sample Holder with lid and sample board removed, showing magnet set and LN2 reservoir. Click on either photo to see a larger image.
1.0 Tesla (Optional)





Ecopia offers a 1.0 Tesla permanent magnet sample holder kit with lid for use at room temperature only. Click on either photo to see a larger image.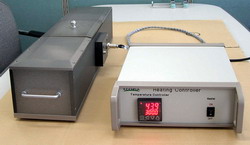 Ecopia offers the 300oC variable temperature HT55T Heated Stage Sample Kit with two 0.51T magnets and the Easy-Slide ball bearing stage.
Click on photo to see the 206K PDF file.
More Options and Accessories:
Click image for a descriptive PDF file

Sample boards for bonding/testing samples:

For use with <6mm x 6mm samples (5 pcs included with HMS system)
For use with <20mm x 20mm samples (5 pcs included with HMS system)
For use with socketed IC's (not normally included, but available upon request)
Screen-shot showing HMS-3000 Software
Click photo to see a larger image

Screen-shot showing IV Curve software
Click photo to see a larger image
Another image of the HMS-3000 which lists the included materials
Click photo to see a larger image
White Papers that mention the use of the HMS-3000: The following papers are copyrighted materials that you can find on the web by searching for the name using google. Include the quotation marks in your google search. Once you have purchased the PDF document, you can search in the documment for "HMS" to find the reference:
"Preparation and Properties of Multiwalled Carbon Nanotube/Polycaprolactone Nanocomposites"
"Structure, optical, and electrical properties of indium tin oxide thin films prepared by sputtering at room temperature and annealed…"
"Sintering behaviors and electrical properties of transparent conducting…"
---
Downloads
---
We Recommend
Ecopia also offers the easy-to-use HMS-5000 Hall Measurement System with automated magnet movement, variable temperature capability, and powerful analysis software
---
Four-Point-Probes is a division of Bridge Technology. To request further information please call Bridge Technology at (480) 219-9007 or send e-mail to Joshua Bridge at: sales@bridgetec.com